Get

More

out

of

Your

Customer

Support

Agent
Gone are the days where a call agent simply placed or received calls and took or left messages. These days, call center agents have expanded their realm of responsibilities. They're now focused on customer support aspects, which means call center offerings are much more robust than they have been in the past.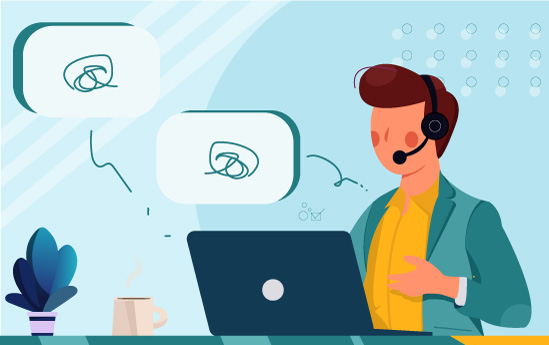 While it may not be surprising to see an internal call agent take on other responsibilities, today you can also find outsourced call agencies that will complete back-office tasks as well. So if you are afraid of paying to outsource with low call volume or fear of not getting your money's worth, ensure you find an agency that pairs with business process outsourcing (BPO).
In today's world, we're seeing more customer support agents:
Improving customer experience
When a customer reaches out to or is contacted by an outsourced call agent, that call agent becomes an extension of your company. Anything they say or do is attributed to your company and your brand. Trained and competent call agents will treat each customer in a courteous and positive manner, solve the problem calmly and pleasantly. In doing so, the call agent has effectively given the customer a pleasing experience in addition to the basic customer support required of them potentially aiding in retention and referrals.
Upselling when appropriate
Sometimes call agents are required to make sales or upsell products to existing customers. This requires the agent to listen carefully to the customer's concerns, understand their issues and needs, and offer the appropriate product or service that will most effectively help the customer. This goes above and beyond the typical responsibilities of simply answering questions – the outsourced call agent becomes an extension of your sales team and can help improve overall sales numbers.
Outsourced customer support agents are now more responsible than ever for collecting, analyzing, and relaying data to their managers or quality assurance team. Such data includes contact and billing information, detailed notes on what occurred during the call, or any important notes about the customer's history. This can be tracked in spreadsheets or better in an internal CRM.
Offering technical support
Due to the increased use of high-tech solutions in call centers and the growing difficulty of new technologies, call agents are now appropriate for technical support. Whereas they used to answer questions regarding other aspects of the customer's journey, they can now help troubleshoot and solve issues like a service desk. This also prevents the technology support team from being overwhelmed with support tickets and provides more up-front value to the customer when their problem is fixed at the first call.
Customer support agents in the modern world go way beyond the support requirements of the past. Today, call agents can effectively be used to improve your customer experience and technical support, upsell products and collect data. The growing responsibilities of support agents are allowing for faster business growth and a more streamlined and organized approach.
A team of customer support agents can be a vital part of your business strategy. Click below to get in touch and see how SupportZebra's team of educated and energetic call agents can be helpful in your strategy.