Customer

Service

Skills

Every

Employee

Should

Have
Whether you formally work in customer service or not, you need to have a basic understanding of customer service skills. It doesn't matter your department, your seniority level, or your industry – you're responsible for the experience your customers have with your company, which is why you should be concerned with your customer service skills.
Every employee, no matter what role they're in, should have the following skills in order to effectively exhibit superior customer service.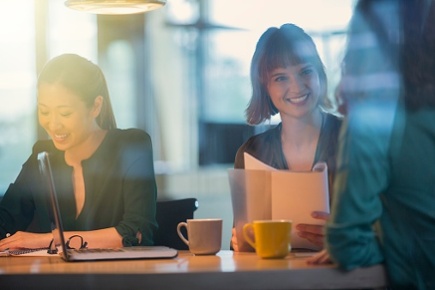 Working, in-depth knowledge of what your company's product does is essential for every employee across your organization. If employees can easily understand the intricacies of your product, they'll be more able to help the customer should issues arise. It makes a much greater impression when an employee is able to answer a question directly and accurately without needing to ask for assistance. This sets the precedent that your employees are knowledgeable and reliable in the work they do. For those who don't work in customer service, it opens the door for faster innovation.
Strong verbal communication
Concise communication and the ability to articulate facts clearly isn't something every department needs to do on a daily basis – but they should. The use of verbal communication over written allows for an easier understanding and less misinterpretation of information. When working with customers, it is essential to convey messages clearly and accurately to create a trouble-free environment for them. Customers are much more satisfied with their service if they do not need to work for the information or guidance you offer them. It is essential to provide accurate guidance while keeping the conversation informational and friendly with the customer.
Stepping into the customer's shoes is an important part of successful customer service. You need to understand that they are using a product and are upset or don't understand why they have issues using it. Show them you care and happy to help. At one point, you were learning how to utilize the product as well, so relay the information that helped ease your learning process. The more you can relate to them shows that you are listening and trying to interpret their problems. Customers want to be met with happy and helpful service, so create that environment for them.
Critical thinking may be one of the most important aspects of a customer service employee. The ability to analyze a problem or situation and effectively churn out a solution is not a skill that can be skated by. Customers are coming to you looking for answers, and expect you to be able to provide them (whether you can or not). Answer anything to the best of your knowledge, and if something is over your head, grab another employee. Keeping it as pleasant as possible, let them know you are going to find someone who can be more helpful to them. Customers don't enjoy being handed down a tree of employees, so make sure if you need to bring in someone else, they will be able to answer the question at hand.
Ensuring every employee supplies vital customer service skills, no matter what their role, will help propel your company into success. Every employee should have a working knowledge of your product or service, the ability to communicate effectively and concisely, critical thinking and problem-solving skills, and a high degree of empathy for your customers.