In today's competitive global marketplace, organizations always look for methods to reduce expenses and optimize operations without sacrificing quality. In recent years, outsourcing has gained traction as a revolutionary tactic, notably in e-commerce. The Philippines has emerged as a critical destination for this activity. Corporations that have made this strategic shift have reaped significant rewards. Understanding the elements contributing to the success of outsourcing e-commerce to the Philippines is vital if you consider joining the ranks of companies that have benefited from this practice.
We must study the empirical evidence demonstrating this trend's success to understand the outsourcing world and its impact on global business. A notable example is the Information Technology and Business Process Management (IT-BPM) industry in the Philippines, exhibiting outstanding growth, incredible resilience in the face of the pandemic, and a substantial economic contribution to the nation. The following part will examine the essential statistics and insights that give a complete picture of this growing business and its far-reaching implications on local and global markets.
The IT-BPM business in the Philippines continues to be a significant economic driver. It leads to the addition of billions to the country's gross domestic product and the creation of thousands of employment (GDP).
According to the IT and Business Process Association of the Philippines (IBPAP), the industry's revenues grew by 10.6 percent compared to projections for 2020.
In 2021, the sector's revenue of

$29.49 billion

reflects the industry's remarkable recovery from the pandemic's ravages. The clear contributions of the business to nation-building include protecting jobs, stimulating investments, encouraging rural development, and increasing real estate demand. The Filipino IT-BPO business is experiencing a renaissance due to this double-digit growth, which supports the 2021 performance goal.
Source: IBPAP
For many businesses, outsourcing e-commerce to the Philippines has been a game-changer.
But, before outsourcing e-commerce to the Philippines, it is important to consider the following factors.
The Philippines Has A Large Pool Of Skilled Professionals.
The Philippines has a vast pool of competent workers, making it an appealing location for outsourcing e-commerce operations. Many of these gifted individuals have the direct industry knowledge and an in-depth comprehension of its complexities. In addition, Filipinos are renowned for their superior communication abilities, a critical asset for e-commerce enterprises that must connect with international clients.
As the nation's largest employer, the IT-BPM industry has grown rapidly in recent years:
According to the IBPAP, the industry added nearly 120,000 full-time workers (FTEs) in the previous year and is projected to end 2021 with a total of 1.44 million FTEs, a 9.1 percent increase over 2020.
Technology advances may delay the expansion of some low-end services, reducing the necessary workforce from 525,000 FTEs in 2016 to approximately 482,000 FTEs in 2022.
The number of positions requiring moderate education is projected to increase from 452,000 FTEs in 2016 to 840,000 FTEs in 2022. 
High-skill services could grow even faster, from 169,000 FTEs in 2016 to 478,000 FTEs in 2022.
It is anticipated that by 2022, 73 percent of positions in the IT-BPM sector will require middle- to advanced-level skills.
The Philippines is an excellent place for outsourcing e-commerce operations due to its rapid expansion and supply of qualified individuals.
Source: IBPAP
Labor Is Less Expensive In The Philippines Than In Other Countries.
Cost savings is one of the key advantages of outsourcing e-commerce to the Philippines. For instance, labor costs in the Philippines are significantly lower than in the United States or Europe. This indicates that organizations can reduce labor expenses without lowering quality. In addition, outsourcing to the Philippines can save companies money on office space, equipment, and utilities.
Time Zone Differences May Require Some Adjustments.
The Philippines is located in a different time zone than several other nations, which might complicate communication and collaboration. Yet, many firms have found this advantageous, as it enables them to operate 24/7 and respond rapidly to client inquiries and concerns.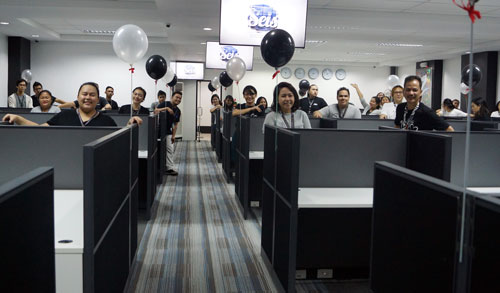 It's Crucial To Find The Right Outsourcing Partner.
When outsourcing e-commerce to the Philippines, choosing a suitable outsourcing partner is crucial. Search for a company with experience dealing with e-commerce companies and a history of producing high-quality solutions. Also, it is critical to pick a partner whose methods are transparent and who is easy to communicate with.
Quality Control Is Essential.
Quality control may be challenging for organizations that outsource e-commerce to the Philippines. With the right outsourcing partner, though, this should be manageable. Seek a partner with a rigorous quality control procedure, including regular performance evaluations and training programs.
Data Security Is Crucial.
It is essential to prioritize data security while outsourcing e-commerce to the Philippines. Seek a business partner employing stringent security measures like secure servers, firewalls, and encryption. Moreover, ensure that all sensitive data personnel have received proper data security training.
Build A Strong Relationship With Your Outsourcing Partner.
Lastly, having a solid relationship with your outsourcing partner is crucial. This requires consistent communication, openness, and a desire to work together to resolve any problems. By establishing a solid relationship with your outsourcing partner, you can ensure that your firm is in capable hands and will continue to thrive.
E-commerce outsourcing to the Philippines can save money without sacrificing quality. You can reap the benefits of outsourcing e-commerce to the Philippines by adhering to these guidelines and forming a strong collaboration with your outsourcing partner. Locate a partner with experience in e-commerce. Seek a partner with open communication and transparent practices.
BPOs and SaaS vendors specializing in e-commerce can assist you in finding a suitable outsourcing partner. These businesses understand e-commerce. In addition, they have systems for quality and data security.
Request referrals from other e-commerce enterprises that have outsourced to the Philippines. This might help you discover a partner with a track record of delivering high-quality solutions which is easy to work with. After the perfect outsourcing partner has been identified, a strong relationship is necessary. This demands transparency, consistent communication, and problem-solving skills. By establishing a solid relationship with your outsourcing partner, you can secure the growth and success of your organization.